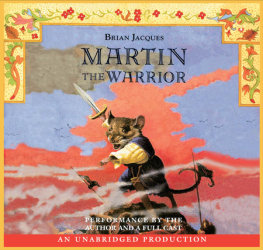 Martin the Warrior
Imprint: Listening Library
Grades: Grade 5 & Up
Ages: 10 and up
Release Date: December 05, 2017
10 Hours and 8 Minutes
List Price: $63
ISBN: 9780525633266
A shadow has fallen on the shore of the Eastern sea, a shadow called Marshank. In this cold stone fortress a stoat named Badrang holds dozens of innocent creatures as slaves, part of his scheme to build an empire where he will rule as unquestioned tyrant.

Among those slaves is a mouse named Martin who has a warrior's heart, and a burning desire for freedom—freedom not only for himself, but for all of Badrang's victims. There is no risk he will not take, no battle he will not fight, to end the stoat's evil reign, and in the process regain the sword of his father, Luke the Warrior—the sword that Badrang stole from him when he was but a lad.

Once again master storyteller Brian Jacques has crafted an epic adventure and filled it to the bursting point with unforgettable characters, including villains so hilariously evil you'll barely be able to keep from hissing at them, and loveable woodland creatures so brave you'll want to stand and cheer as they fight for their freedom.