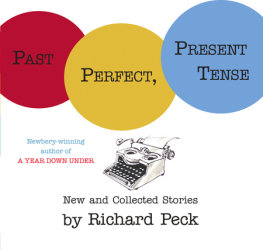 Past Perfect, Present Tense
Imprint: Listening Library
Grades: Grades 3-7
Ages: 8-12 years
Release Date: July 14, 2009
4 Hours and 45 Minutes
List Price: $38.25
ISBN: 9780739386163
Though Richard Peck is best known as a novelist, he has been writing short stories—rousing, provocative, and thoroughly entertaining—throughout his career. "Priscilla and the Wimps," his first, is perhaps the most-read children's short story of all time. Others have inspired his award-winning novels: A Long Way from Chicago and A Year Down Yonder began with a tale called "Shotgun Cheatham's Last Night Above Ground"; and "The Electric Summer" was the jumping point for Fair Weather.
Compiled for the first time, here are all of Richard Peck's stories: eleven previously published tales and two brand-new ones. He has also written engaging notes about the stories, an informative introduction about the genre, and tips on how to write short stories, including "Five Helpful Hints" that will be a valuable aid to aspiring authors.
Vibrant and varied—from comic to supernatural, from historical to modern-day romantic—there's something for everyone in the collected stories of Richard Peck.