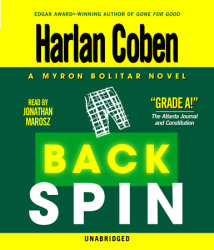 Back Spin
Imprint: Random House Audio
Genre: Fiction - Thrillers - Suspense

Release Date: May 08, 2007
8 Hours and 30 Minutes
List Price: $19.99
ISBN: 9780739341001
Categories:
Fiction - Thrillers - Suspense, Fiction - Thrillers - General, Fiction - Mystery & Detective - General
Tags:
mystery, myron bolitar, crime, thriller, sports, kidnapping, sports agent, golf, suspense, detective, amateur detective, new jersey, usa, sports agents, contemporary, murder, crime fiction, montenegro, policier, new york
Kidnappers have snatched the teenage son of super-star golfer Linda Coldren and her husband, Jack, an aging pro, at the height of the U.S. Open. To help get the boy back, sports agent Myron Bolitar goes charging after clues and suspects from the Main Line mansions to a downtown cheaters' motel--and back in time to a U.S. Open twenty-three years ago, when Jack Coldren should have won, but didn't. Suddenly Myron finds himself surrounded by blue bloods, criminals, and liars. And as one family's darkest secrets explode into murder, Myron finds out just how rough this game can get.

In stories that crackle with wit and suspense, Edgar Award winner Harlan Coben has created one of the most fascinating and complex heroes in suspense fiction--Myron Bolitar--a hotheaded, tenderhearted sports agent who grows more and more engaging and unpredictable with each appearance.