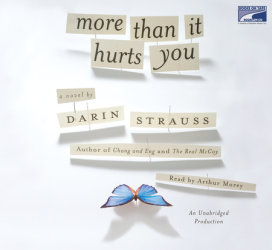 More Than it Hurts You
Imprint: Books on Tape
Genre: Fiction - Medical

Release Date: July 01, 2008
15 Hours and 3 Minutes
List Price: $95
ISBN: 9781415954898
Josh Goldin was savoring a Friday afternoon break in the coffee room, anticipating the weekend at home where his wife, Dori, waited with their eight-month-old son, Zack. And then Josh's secretary rushed in, using words like intensive care, lost consciousness, blood.

That morning, Dori had walked into the emergency room with her son in severe distress. Enter Dr. Darlene Stokes, an African American physician and single mother whose life is dedicated both to her own son and navigating the tricky maze of modern-day medicine. But something about Dori stirred the doctor's suspicions. Darlene had heard of the sensational diagnosis of Munchausen by proxy, where a mother intentionally harms her baby, but she had never come upon a case of it before. It's rarely diagnosed and extraordinarily controversial. Could it possibly have happened?

When these lives intersect with dramatic consequences, Darlene, Dori, and Josh are pushed to their breaking points as they confront the nightmare that has become their new reality. Darin Strauss's extraordinary novel is set in a world turned upside down—where doctors try to save babies from their parents, police use the law to tear a family apart, and the people you know the best end up surprising you the most.