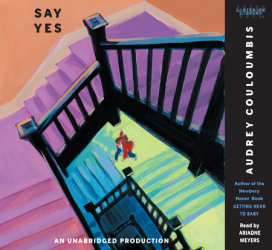 Say Yes
Imprint: Listening Library
Grades: Grades 3-7
Ages: 8-12 years
Release Date: December 29, 2009
4 Hours and 8 Minutes
List Price: $33
ISBN: 9780307582737
Wednesday morning is like any other morning, but different. Casey wakes up, gets ready for school. But Sylvia, her stepmother, gets up too—to see her off, she says. That's different. And when Casey comes home from school that day, Sylvia is gone.

Casey's no baby. She can take care of herself. But her stepmother has never done anything like this before, and Casey has no idea how long she'll be gone. Or if she'll come back.

In New York City, a girl's got to be tough. But when the landlord's teenage foster son offers to help, Casey is more than willing to accept. Until it turns out his help comes at a price. And if Casey says yes, she'll be breaking the law.

For any kid who's dreamed about their own independence, Say Yes will be an eye-opening, heart-stopping read.