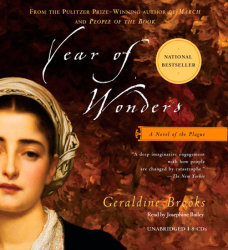 BOT Exclusive
Year of Wonders
Imprint: Books on Tape
Genre: Fiction - Historical - General

Release Date: July 10, 2001
10 Hours and 48 Minutes
List Price: $72
ISBN: 9780736675574
Categories:
Fiction - Historical - General
Tags:
historical fiction, plague, england, historical, 17th century, history, religion, bubonic plague, death, black death, disease, women, great britain, australian, the plague, medieval, literature, survival, medicine, epidemic, derbyshire, middle ages, witchcraft, quarantine, historical novel, british, geraldine brooks, britain, australian author, romance
When an infected bolt of cloth carries the plague from London to an isolated mountain village, a housemaid named Anna emerges as an unlikely heroine and healer. Through her eyes, we follow the story of the plague year, 1666, as her fellow villagers make an extraordinary choice. Convinced by a visionary young minister, they elect to quarantine themselves within the village boundaries to arrest the spread of the disease. But as death reaches into every household, faith frays. When the villagers turn from prayers and herbal cures to sorcery and murderous witch-hunting, Anna must confront the deaths, the disintegration of her community, and the lure of a dangerous and illicit love. As she struggles to survive, a year of plague becomes a "year of wonders." See also A JOURNAL OF THE PLAGUE YEAR (#1030) by Daniel Defoe.