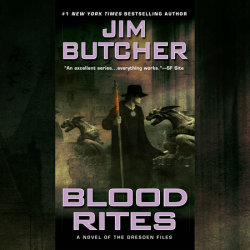 Blood Rites
Imprint: Books on Tape
Genre: Fiction - Fantasy - Paranormal

Release Date: June 15, 2021
13 Hours and 5 Minutes
List Price: $95
ISBN: 9780593553336
New in hardcover from the #1 New York Times bestselling author of the Dresden Files series.

For Harry Dresden, there have been worse assignments than going undercover on the set of an adult film. Still, there's something more troubling than usual about his newest case. The film's producer believes he's the target of a sinister curse-but it's the women around him who are dying.

Harry's even more frustrated because he only got involved with this bizarre mystery as a favor to Thomas-his flirtatious, self-absorbed vampire acquaintance of dubious integrity. Thomas has a personal stake in the case Harry can't quite figure out. But Harry is about to discover that Thomas' family tree has been hiding a shocking revelation that will change his life forever...