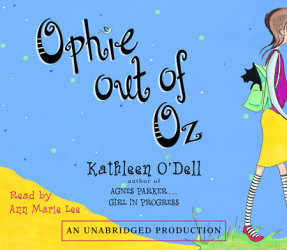 Ophie Out of Oz
Imprint: Listening Library
Grades: Grades 3-7
Ages: 8-12 years
Release Date: October 27, 2009
3 Hours and 42 Minutes
List Price: $33
ISBN: 9780739386330
Ophie Peeler has always considered herself to be a Dorothy type, a girl destined for a glamorous adventure. . .someday. . .somehow. . .somewhere. And her life in fun and sunny California seemed to have an Oz-like magic. She was in every play, she sang "Over the Rainbow" to a packed school auditorium, and she had Lizzy, the best best friend ever.

But now Ophie has moved to Oregon. No glamour, no magic, and no Lizzy. Just this weird girl, Brittany Borg, who seems to have stuck herself to Ophie (and who calls her "Hey, Peeler"!).

Why oh why can't life ever be like it is in the movies?