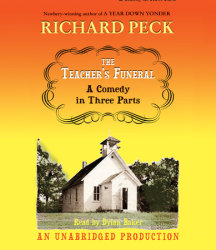 BOT Exclusive
The Teacher's Funeral
Imprint: Listening Library
Grades: Grade 7 & Up
Ages: 12 and up
Release Date: June 27, 2006
4 Hours and 48 Minutes
List Price: $38
ISBN: 9781400094967
"If your teacher has to die, August isn't a bad time of year for it," says Russell Culver, fifteen, who's raring to light out for the endless skies of the Dakotas to join a team of harvesters working the new 1904 all-steel threshing machines. School's only standing in the way of his Dakota dreams. Maybe now with his teacher in the ground, Hominy Ridge School will shut down for good.
No such luck. Russell and his schoolmates–Pearl, Flopears, Little Britches; the whole bunch–are about to be ruled by a new teacher who's Russell's worst nightmare.
Despite stolen supplies, rustic vandalism, a blazing boys' privy, and more snakes than you can shake a stick at, the new teacher will keep the school afloat and set Russell on a new course entirely.
As he did in A Long Way from Chicago and A Year Down Yonder, Richard Peck here creates a whole world of folksy, one-of-a-kind characters in his funniest novel yet. There will be no forgetting Russell, his new teacher, and all the inmates of Hominy Ridge School, on both sides of the teacher's desk.