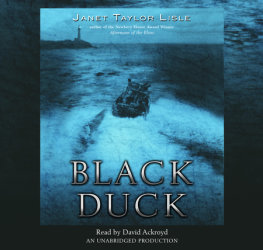 Black Duck
Imprint: Listening Library
Grades: Grade 7 & Up
Ages: 12 and up
Release Date: April 24, 2007
5 Hours and 30 Minutes
List Price: $38.25
ISBN: 9780739355169
When Ruben and Jeddy find a dead body in an evening suit washed up on the shore, they are certain it has to do with smuggling liquor. It is spring 1929, Prohibition is in full swing, and many in their community are involved.

Soon the boys, along with Jeddy's strong-willed sister, Marina, are drawn in, suspected by rival bootlegging gangs of taking something crucial off the dead man. Then Ruben meets the daring captain of the Black Duck, the most elusive smuggling craft of them all, and it isn't long before he's keeping dangerous company.

Inspired by very real accounts of the Black Duck, a legendary rum-running boat that worked the New England shores during the era, Newbery Honor winner Janet Taylor Lisle has produced a colorful, original work of historical fiction.