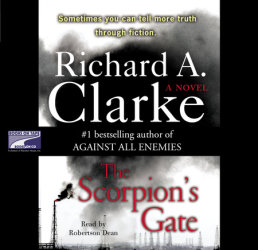 The Scorpion's Gate
Imprint: Books on Tape
Genre: Fiction - Thrillers - Political

Release Date: July 06, 2010
8 Hours and 58 Minutes
List Price: $76
ISBN: 9780307876355
From the noted counterterrorism expert and number-one-bestselling author of Against All Enemies comes what will surely be one of the most talked-about books of the year–a novel of terrorism, war, and political treachery...that could happen tomorrow.

For three decades, Richard Clarke worked in the White House, State Department, and Pentagon. As advisor to four Presidents, he traveled throughout the Middle East, visiting palaces, military bases, and intelligence centers, meeting rulers, soldiers, and spies. Some of what he found appeared in Against All Enemies. Much more of it appears here.

In an extraordinary geopolitical thriller filled with the kind of cutting-edge authenticity only someone on the inside could bring, Clarke takes listeners just a few weeks into the future, when forces in both the Middle East and the United States are at work to launch another war. But this time, it could be bigger. This time, it could be nuclear, and spread to Asia and beyond.

Blending exceptional realism with intricate plotting, razor-sharp suspense, and a remarkable cast of characters, THE SCORPION'S GATE is an astonishing fiction debut–and much more.