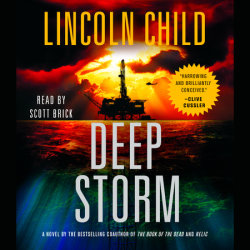 Deep Storm
Imprint: Books on Tape
Genre: Fiction - Action & Adventure

Release Date: January 30, 2007
12 Hours and 59 Minutes
List Price: $95
ISBN: 9781415936481
"Few writers do it better than Child."
––BOOKLIST

Former naval doctor Peter Crane is urgently summoned to a remote oil platform in the North Atlantic to help diagnose a bizarre medical condition spreading through the rig. But when he arrives, Crane learns that the real trouble lies far below–on "Deep Storm," a stunningly advanced science research facility built two miles beneath the surface on the ocean floor. The top-secret structure has been designed for one purpose: to excavate a recently discovered undersea site that may hold the answers to a mystery steeped in centuries of myth and speculation.

Sworn to secrecy, Dr. Crane descends to Deep Storm. A year earlier, he is told, routine drilling uncovered the remains of mankind's most sophisticated ancient civilization: the legendary Atlantis. But now that the site is being excavated, a series of disturbing illnesses has begun to affect the operation. As Crane is indoctrinated into the strange world of Deep Storm and commences his investigation, he begins to suspect that the covert facility conceals something more complicated than a medical mystery. The discovery of Atlantis might, in fact, be a cover for something far more sinister . . . and deadly.