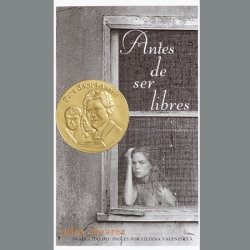 Antes De Ser Libres
Imprint: Listening Library
Grades: Grade 7 & Up
Ages: 12 and up
Release Date: October 13, 2009
6 Hours and 26 Minutes
List Price: $39
ISBN: 9780739386316
Now available in Spanish, the book Horn Book called "a realistic and compelling account of a girl growing up too quickly while coming to terms with the cost of freedom." 

I wonder what it would be like to be free? Not to need wings because you don't have to fly away from your country?

From award-winning author Julia Alvarez comes the story of Anita de la Torre, a 12-year-old girl living in the Dominican Republic in 1960. Most of her relatives have immigrated to the United States, her Tío Toni has disappeared, Papi has been getting mysterious phone calls about butterflies and someone named Mr. Smith, and the secret police have started terrorizing her family for their suspected opposition to the country's dictator. While Anita deals with a frightening series of events, she also struggles with her adolescence and her own personal flight to be free.