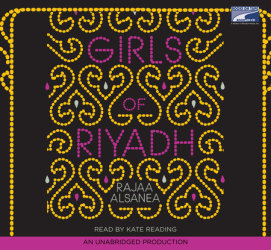 Girls of Riyadh
Imprint: Books on Tape
Genre: Fiction - Literary

Release Date: July 10, 2007
8 Hours and 34 Minutes
List Price: $76
ISBN: 9781415941164
GIRLS OF RIYADH was released in Lebanon in Arabic in 2005. The novel, about women from Saudi Arabia's upper classes, immediately became a sensation all over the Arab world. Scholars and critics throughout the Arab world hailed the book as a breakthrough in Arabic literature, some going so far as to label it "the first modern Arab novel."

In this bold debut, Rajaa Alsanea reveals the social, romantic, and sexual tribulations of four young women from the elite classes of Riyadh, Saudi Arabia. Every week after Friday prayers, an anonymous female narrator sends e-mails to the subscribers of her online list-serv. In fifty such e-mails, spanning more than a year, the Scheherazade-like narrator unfolds little by little the comic-tragic reality of a small group of girlfriends–Gamrah, Michelle, Sadeem, and Lamees–as they negotiate their love lives, their professional successes, and their rebellions, large and small, against their cultural traditions.

Riyadh is the larger setting of the novel, but the characters travel all over the globe shedding traditional garb as they literally and figuratively cross over into Western society. These women understand the Western worldview and experiment with reconciling pieces of it with their own. This groundbreaking novel opens up the hidden world of the Saudi woman to the rest of us–now, for the first time, we are able to understand their conflicts, struggles, and frustrations; their hopes, beliefs, and dreams.