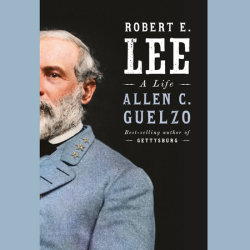 Lee
A Biography
Imprint: Books on Tape
Genre: Biography & Autobiography - Historical

Release Date: September 28, 2021
14 Hours
List Price: $95
ISBN: 9780593453933
From the acclaimed author of Gettysburg: The Last Invasion--a sweeping, singularly immediate, and intimate biography of the Confederate general and his fateful decision to betray his nation in order to defend his home state and uphold the slave system he claimed to oppose.

Robert E. Lee is one of the most confounding figures in American history--a traitor to the country he swore to serve as an Army officer, yet admired even by his enemies for his composure and leadership. He considered slavery immoral, but benefited from inherited slaves and fought to defend the institution. And behind his genteel demeanor and perfectionism: the insecurities of a man haunted by the legacy of a father who stained the family name by declaring bankruptcy and who disappeared when Robert was six years old.

In Lee, the award winning historian Allen Guelzo has written the definitive biography of the general, following him from his refined upbringing in Virginia high society, to his long US Army career, his agonized decision to side with Virginia when it seceded from the Union, and his leadership during the Civil War. Above all Guelzo captures Lee in all his complexity - his hypocrisy and courage, his outward calm and inner turmoil, his honor and his disloyalty.