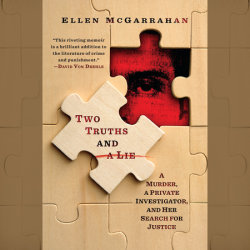 Two Truths and a Lie
Murder, Obsession, and Justice in the Sunshine State
Imprint: Books on Tape
Genre: True Crime - Murder - General

Release Date: February 02, 2021
12 Hours
List Price: $95
ISBN: 9780525495345
A private investigator returns to the case that has haunted her for decades—a death row execution that might have taken the life of an innocent man—and sets out on a deeply personal quest to sort truth from lies.
 
In 1990, Ellen McGarrahan was working as a journalist when she witnessed the botched electric-chair execution of Jesse Tafero, convicted of killing two police officers in Broward County, Florida. When evidence emerged implicating a different man in the murders, McGarrahan found herself haunted by Tafero's fiery death—and by her own unquestioning acceptance of the state's version of events.
 
Decades later, McGarrahan has left Florida and become a successful private investigator—one of the very few women at the top of the field—but the Tafero case remains an insistent mystery shadowing the edges of her days. She decides that the only way to come to terms with this obsession is to investigate it herself. She goes back to Florida, digging deep into dusty courthouse archives and knocking on the doors of key witnesses, tracking down hard evidence and hearing crucial new testimony, as slowly but inexorably she pieces together what actually happened. The journey plunges her back in time, to the Miami of the 1960s and 1970s, where jewel thieves, drug kingpins, and go-go dancers inhabit a deadly paradise of smuggling, speedboats, cash—and blood. The tragedy of the two murdered officers, she discovers, is only the start of the story, and Florida becomes the jumping-off point for a search that will take her not only to the other side of the world but into a long-buried secret of her own life. As McGarrahan homes in on the truth, questions of guilt and innocence become ever more complex. She discovers that she is not alone in her need for closure, because whenever a human life is taken by violence, the reckoning is long and difficult for all. 
 
A rare and vivid first-person account of the life of a private investigator, a gripping true-crime story, and a powerful journey into the harrowing heart of personal obsession, Two Truths and a Lie is ultimately a profound meditation on grief, complicity, and justice.