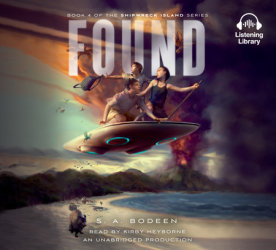 Found
Imprint: Listening Library
Grades: Grades 4-7
Ages: 9-12 years
Release Date: February 14, 2017
3 Hours and 17 Minutes
List Price: $34
ISBN: 9781101915714
Have the Robinsons found a way off the island?

Sarah Robinson and her family intended to have a vacation adventure aboard a boat but ended up stranded on a remote and mysterious island. Along with unusual, weird creatures, they met the "Curator," a strange boy who may be an . . . alien. And then they met Cash, a girl who may hold the key to why Shipwreck Island has been kept a secret for so long. 

Is there treasure? And will the people hunting for treasure rescue the castaways? The Robinsons have only one chance to escape. Will they be trapped on Shipwreck Island forever?