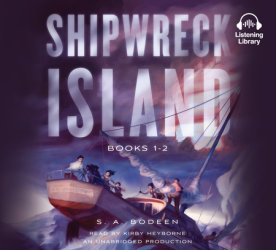 Shipwreck Island, Books 1-2
Imprint: Listening Library
Grades: Grades 4-7
Ages: 9-12 years
Release Date: July 28, 2015
7 Hours and 39 Minutes
List Price: $50
ISBN: 9781101915639
Shipwreck Island, Book 1:
Sarah Robinson is deeply troubled in the wake of her dad's second marriage. She now has to deal with a new stepmom and two stepbrothers, Marco, who is her age, and Nacho, who's younger. Even though they've all moved from Texas to California to start life as a new, blended family, none of the kids seem remotely happy about it.

Sarah's dad and stepmom then decide to take the whole family on a special vacation in order to break the ice and have everyone get to know one another. They'll fly to Tahiti, charter a boat, and go sailing for a few days. It'll be an adventure, right?

Wrong. Dead wrong.

Lost, Shipwreck Island, Book 2:
The mystery of the island deepens as members of the Robinson family disappear and strange animals are discovered.

Sarah Robinson and her family are shipwrecked on a remote and mysterious island. Their food is running out, and their fear is escalating–there is no sign of rescue. The mysterious girl they found unconscious at the beach is healing, and what she tells them about the strange island and especially about someone called the Keeper has the family on edge. When Sarah's dad and Marco's younger brother go missing, the mystery becomes dangerous. Now, it's a matter of life and death. Now, the family is truly lost.