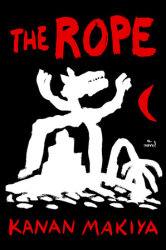 The Rope
A Novel
Imprint: Books on Tape
Genre: Fiction - Historical - General

Release Date: March 15, 2016
11 Hours and 58 Minutes
List Price: $95
ISBN: 9780735205987
From the best-selling author of Republic of Fear, here is a gritty and unflinching novel about Iraqi failure in the wake of the 2003 American invasion, as seen through the eyes of a Shi'ite militiaman whose participation in the execution of Saddam Hussein changes his life in ways he could never have anticipated.
 
When the nameless narrator stumbles upon a corpse on April 10, 2003, the day of the fall of Saddam Hussein, he finds himself swept up in the tumultuous politics of the American occupation and is taken on a journey that concludes with the discovery of what happened to his father, who disappeared into the Tyrant's gulag in 1991. When he was a child, his questions about his father were ignored by his mother and his uncle, in whose house he was raised. Older now, he is fighting in his uncle's Army of the Awaited One, which is leading an insurrection against the Occupier. He slowly begins to piece together clues about his father's fate, which turns out to be intertwined with that of the mysterious corpse. But not until the last hour before the Tyrant's execution is the narrator given the final piece of the puzzle—from Saddam Hussein himself.
 
The Rope is both a powerful examination of the birth of sectarian politics out of a legacy of betrayal, victimhood, secrecy, and loss, and an enduring story about the haste with which identity is cobbled together and then undone. Told with fearless honesty and searing intensity, The Rope will haunt its readers long after they finish the final page.