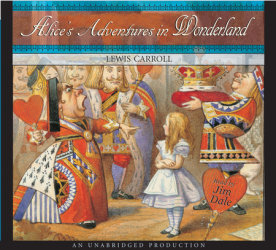 Alice's Adventures in Wonderland
Imprint: Listening Library
Grades: Grades 3-7
Ages: 8-12 years
Release Date: August 26, 2008
2 Hours and 57 Minutes
List Price: $25
ISBN: 9780739367384
Categories:
Juvenile Fiction - Classics, Juvenile Fiction - Fantasy & Magic, Juvenile Fiction - Social Themes - General (See Also Headings Under Family)
Tags:
fantasy, classic, classics, children, children's, children's literature, alice in wonderland, literature, lewis carroll, adventure, 19th century, children's fiction, england, british, children's books, british literature, young adult, humor, english, english literature, children's book, wonderland, juvenile, carroll, portal fantasy, classic literature, kids, primary school, ya, art
Alice was beginning to get very tired of sitting by her sister on the river bank, and of having nothing to do...when suddenly a White Rabbit with pink eyes ran by her. Alice did not think it so very strange to hear the Rabbit say to itself, "Oh dear! Oh dear! I shall be too late!" But when the Rabbit actually took a watch out of its waistcoat pocket and then hurried on, she started to wonder! Running after the strange fellow, she was just in time to see it pop down a large rabbit-hole. Down jumped Alice after it (never considering how in the world she was to get out again) and she tumbled into a curious world inhabited by the Mad Hatter, the Ugly Duchess, the Mock Turtle, the Cheshire Cat, and more…

With his marvelous sense of the absurd, Lewis Carroll's whimsical, fantastical tale delighted children and adults when it was first published in 1865 and has since become a treasured classic of literature.