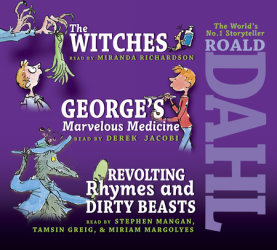 The Roald Dahl Collection, Volume 2
The Witches; Revolting Rhymes & Dirty Beasts; George's Marvelous Medicine
Imprint: Listening Library
Grades: Grades 2-5
Ages: 7-10 years
Release Date: June 10, 2014
7 Hours and 15 Minutes
List Price: $50
ISBN: 9780553397246
"Roald Dahl sometimes shared a tonal kinship with Ogden Nash, and he could demonstrate a verbal inventiveness nearly Seussian…[His] stories work better in audio than in print." –The New York Times


This collection includes:

The Witches, Read by Miranda Richardson
This is not a fairy tale. This is about real witches.

Grandmamma loves to tell about witches. Real witches are the most dangerous of all living creatures on earth. There's nothing they hate so much as children, and they work all kinds of terrifying spells to get rid of them. Her grandson listens closely to Grandmamma's stories—but nothing can prepare him for the day he comes face-to-face with The Grand High Witch herself!

Revolting Rhymes & Dirty Beasts, Read by Stephen Mangan, Tamsin Greig, and Miriam Margolyes
REVOLTING RHYMES:
Did you think Cinderella married the prince and lived happily ever after, or that the three little pigs outsmarted the wolf? Think again! Master storyteller Roald Dahl adds his own darkly comic twists to six favorite tales, complete with rambunctious rhymes and hilarious surprise endings.

DIRTY BEASTS:
Roald Dahl's inimitable style and humor shine in this collection of poems about mischievous and mysterious animals. From Stingaling the scorpion to Crocky-Wock the crocodile, Dahl's animals are nothing short of ridiculous. A clever pig with an unmentionable plan to save his own bacon and an anteater with an unusually large appetite are among the characters created by Dahl in these timeless rhymes.

"Will elicit a loud 'Yuck.' In other words, children will love them." (Children's Book Review Service)

George's Marvelous Medicine, Read by Derek Jacobi
A taste of her own medicine.

George is alone in the house with Grandma. The most horrid, grizzly old grunion of a grandma ever. She needs something stronger than her usual medicine to cure her grouchiness. A special grandma medicine, a remedy for everything. And George knows just what to put into it. Grandma's in for the surprise of her life—and so is George, when he sees the results of his mixture!