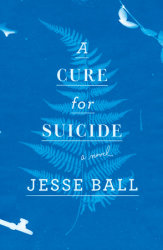 A Cure for Suicide
A Novel
Imprint: Books on Tape
Genre: Fiction - Literary

Release Date: November 17, 2015
7 Hours and 48 Minutes
List Price: $66.50
ISBN: 9780735205765
***LONG-LISTED FOR THE NATIONAL BOOK AWARD***

From the author of Silence Once Begun, a beguiling new novel about a man starting over at the most basic level, and the strange woman who insinuates herself into his life and memory.

A man and a woman have moved into a small house in a small village. The woman is an "examiner," the man, her "claimant." The examiner is both doctor and guide, charged with teaching the claimant a series of simple functions: this is a chair, this is a fork, this is how you meet people. She makes notes in her journal about his progress: he is showing improvement yet his dreams are troubling. One day the examiner brings the claimant to a party, where he meets Hilda, a charismatic but volatile woman whose surprising assertions throw everything the claimant has learned into question. What is this village? Why is he here? And who is Hilda? A fascinating novel of love, illness, despair, and betrayal, A Cure for Suicide is the most captivating novel yet from one of our most audacious and original young writers.