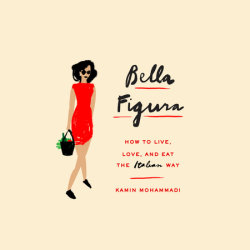 Bella Figura
How to Live, Love, and Eat the Italian Way
Imprint: Books on Tape
Genre: Self-Help - Personal Growth - Happiness

Release Date: May 08, 2018
8 Hours and 27 Minutes
List Price: $76
ISBN: 9780525637769
"My ideal type of armchair travel: immersive, insightful, seductive. In Bella Figura, Kamin Mohammadi takes us to the year in Florence that changed her life, and gives us the tools to bring the grace of the Italian lifestyle to our own lives." —National Bestselling Author Stephanie Danler

"She walks down the street with a swing in her step and a lift to her head. She radiates allure as if followed by a personal spotlight. She may be tall or short, slim or pneumatically curvaceous, dressed discreetly or ostentatiously—it matters not. Her gait, her composure, the very tilt of her head is an ode to grace and self-possession that makes her beautiful whatever her actual features reveal."
 
This is the bella figura, the Italian concept of making every aspect of life as beautiful as it can be, that Kamin Mohammadi discovered when she escaped the London corporate media world for a year in Italy. Following the lead of her new neighbors, she soon found a happier, healthier, and more beautiful way of living.
 
The bella figura knows:
• That the food that you eat should give you pleasure while eating it. Pause for meals, and set a place, even if you are eating alone.
• To seize any opportunity to get moving—be it taking the stairs, doing a coffee run at work, or dancing with abandon.
• To drink a spoonful of excellent-quality extra-virgin olive oil four times a day.
• To seek out nature, be it a city park, a tree on your street, or some wild place.
• And to love yourself. The bella figura—occupies her space, emotionally and physically, with style and entitlement.