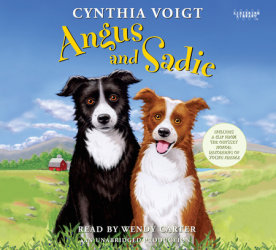 Angus and Sadie
Imprint: Listening Library
Grades: Grades 3-7
Ages: 8-12 years
Release Date: August 05, 2014
4 Hours and 30 Minutes
List Price: $30
ISBN: 9780553396355
Angus is black and white and strong.

Sadie is reddish brown and white and small.

"They don't look much alike," says Missus.

"They don't act much alike," says Mister.

Angus and Sadie are brother and sister. Angus is bigger. He is a good, brave, and clever dog -- and he likes that. Sadie isn't as quick to learn -- or to obey. When cats jump at her, she yelps and runs away. Angus thinks that means she's scared of everything. But Sadie isn't so sure that's true.

Newbery Medalist Cynthia Voigt's story of border collie puppies growing up on a farm in Maine is for animal lovers of all ages, and for anyone who's ever had--or wondered what it would be like to have--a brother or sister just like themselves, but very, very different.