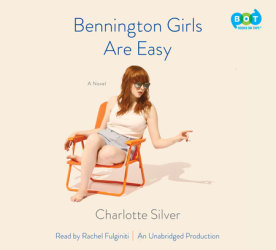 Bennington Girls Are Easy
A Novel
Imprint: Books on Tape
Genre: Fiction - Women

Release Date: July 14, 2015
7 Hours and 49 Minutes
List Price: $66.50
ISBN: 9781101889916
Chosen as one of "Summer's Best Books" by PEOPLE MAGAZINE: "Suprisingly insightful and seriously fun."

One of O MAGAZINE's "Season's Best"

A COSMOPOLITAN MAGAZINE "July Reads" Pick 
 
Named one of REFINERY 29's "21 New Authors to Watch" in 2015



Charlotte Silver dazzles with a ruefully funny coming-of-age novel that follows two recent Bennington grads who are determined to make it in the Big Apple.
 
     Bennington College, founded in 1932 as a suitable refuge for the wayward daughters of good families, maintains its saucy reputation for attracting free spirits. There, acres outnumber students, the faculty is composed of fading hippie and clothing is largely optional. Or, as J. D. Salinger put it in Franny and Zooey: a Bennington-type "looked like she'd spent the whole train ride in the john, sculpting or painting or something, or as though she had a leotard on under her dress."
     Cassandra Puffin and Sylvie Furst met in high school but cement what they ardently believe will be everlasting friendship on Bennington's idyllic Vermont campus. Graduation sees Sylvie moving to New York City, where, later on their twenties, Cassandra joins her. These early, delirious years are spent decorating their Fort Greene apartment with flea market gems, dating "artists", and trying to figure out what they're doing with their lives.
     The girls are acutely and caustically observant of the unique rhythms of the city but tone deaf to their own imperfections, which eventually drives a wedge between them. Equal parts heartfelt and hilarious, Bennington Girls Are Easy is a novel about female friendships—how with one word from a confidante can lift you up or tear you down—and how difficult it is to balance someone else's devastatingly funny lapses in judgment with your own professional and personal missteps.