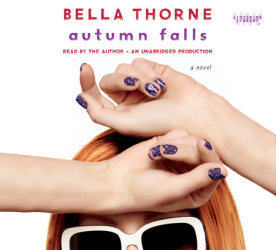 Autumn Falls
Imprint: Listening Library
Grades: Grade 7 & Up
Ages: 12 and up
Release Date: November 11, 2014
5 Hours and 19 Minutes
List Price: $44
ISBN: 9780553395952
New friends, new enemies . . . can a magical journal change Autumn's crazy life? This funny and sweet novel by Bella Thorne is perfect for fans of Descendants and Lisa Greenwald and Jessica Brody's books--and anyone looking for an entertaining read with just a touch of magic! 
 
With her fiery red hair, new-girl outsider status, and tendency to be a total klutz, Autumn Falls definitely isn't flying below the radar at Aventura High. Luckily, she makes some genuine friends who take her under their wing. But she also manages to get on the wrong side of the school's queen bee, and then finds out the guy she's started to like, funny and sweet Sean, hangs with the mean crowd. Now her rep and her potential love life are at stake.
 
When Autumn vents her feelings in a journal that belonged to her late father, suddenly her wildest wishes start coming true. Is it coincidence? Or can writing in the journal solve all her problems? And if the journal doesn't work that way,  is there a bigger purpose for it—and for her?
AUTUMN FALLS is the first book in the series and has everything readers will love and relate to: a real girl trying to find her own inner strength and be the best she can be, with a hint of magic and mystery, and a steady stream of OMG-I-can't-believe-that-just-happened fun.

 
"You'll be obsessed with Autumn Falls. It has basically everything you could ever want: a lovable klutz for a main character, a total heartthrob, and just a touch of magic." —Seventeen.com 

"A brilliant debut from Bella Thorne!" —Girls' Life

 "We personally loved the book. . . . The main character is a fiery, redheaded girl who captures your heart." —Latina.com

"Entertaining." —Booklist

"Captivating . . . highly recommended." —VOYA

"A fun premise." —Publishers Weekly

"Thorne is a shining example of what can be accomplished with the right attitude and drive." —Girls Write Now