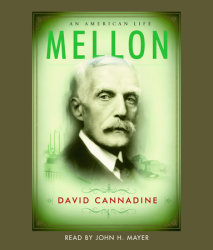 Mellon
An American Life
Imprint: Books on Tape
Genre: Biography & Autobiography - Business

Release Date: October 03, 2006
36 Hours and 6 Minutes
List Price: $95
ISBN: 9780739346617
A landmark work from one of the preeminent historians of our time: the first published biography of Andrew W. Mellon, the American colossus who bestrode the worlds of industry, government, and philanthropy, leaving his transformative stamp on each.

Following a boyhood in nineteenth-century Pittsburgh, Andrew Mellon overcame painful shyness to become one of America's greatest financiers. Across an unusually diverse range of enterprises, he would build a legendary personal fortune, tracking America's course to global economic supremacy. Personal happiness, however, eluded him. He had been bred to do one thing, and that he did with brilliant and innovative entrepreneurship.

Mellon's wealth and name allowed him to dominate Pennsylvania politics, and under presidents Harding, Coolidge, and finally Hoover, he made the federal government run like a business. But this man of straightforward conservative politics was no politician. He would be hailed as the architect of the Roaring Twenties, but, staying too long, would be blamed for the Great Depression, eventually to find himself a broken idol.

David Cannadine's magisterial biography brings to life a towering, controversial figure, casting new light on our history and the evolution of our public values.