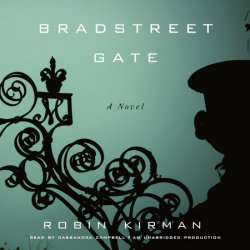 Bradstreet Gate
A Novel
Imprint: Books on Tape
Genre: Fiction - Psychological

Release Date: July 07, 2015
11 Hours and 48 Minutes
List Price: $95
ISBN: 9780553399684
A tour de force about three friends affected by a campus murder, for readers of Donna Tartt, Meg Wolitzer, and Jeffrey Eugenides

Georgia, Charlie and Alice each arrive at Harvard with hopeful visions of what the future will hold. But when, just before graduation, a classmate is found murdered on campus, they find themselves facing a cruel and unanticipated new reality. Moreover, a charismatic professor who has loomed large in their lives is suspected of the crime. Though his guilt or innocence remains uncertain, the unsettling questions raised by the case force the three friends to take a deeper look at their tangled relationship. Their bond has been defined by the secrets they've kept from one another—Charlie's love and Alice's envy, Georgia's mysterious affair—and over the course of the next decade, as they grapple with the challenges of adulthood and witness the unraveling of a teacher's once-charmed life, they must reckon with their own deceits and shortcomings, each desperately in search of answers and the chance to be forgiven.

    A relentless, incisive, and keenly intelligent novel about promise, disappointment, and the often tenuous bonds of friendship, Bradstreet Gate is the auspicious debut of a tremendously talented new writer.