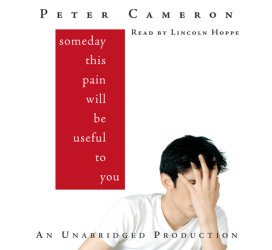 Someday This Pain Will Be Useful to You
Imprint: Listening Library
Grades: Grade 9 & Up
Ages: 14 and up
Release Date: November 04, 2008
7 Hours and 7 Minutes
List Price: $42.50
ISBN: 9780739372548
IN RE: James Sveck–eighteen-year-old New Yorker, charming, precocious, confused, doesn't quite fit in (doesn't really want to),
If: his future (i.e., college) seems completely meaningless, not to mention terrifying . . .  
Then: he'll start anew (move to the Midwest?).
In re: James Sveck–misunderstood by a capricious mother, a self-absorbed father, a mordant older sister,
Et alia: his Teutonic therapist, his D-list celebrity grandmother, his unnervingly attractive art gallery colleague . . .
If: What one wants is enigmatic . . .
Then: Life can be hell.
But: as the summer gets hotter, James comes to recognize the wrenching truth of his emotions.
James's archly comic bravado fuels this sharply observed novel of a teen adrift in an adult world, struggling to make sense of the problems of love and of lack. The engaging voice of our idiosyncratic antihero is deftly captured by the adroit prose of Peter Cameron. Often hilarious, deeply compassionate, smart, and lyrical, Someday This Pain Will Be Useful to You is every bit as sui generis as James Sveck himself.
See also: Brown University; Sexual orientation (confusion thereof); Dinner theater; Poodles (standard).