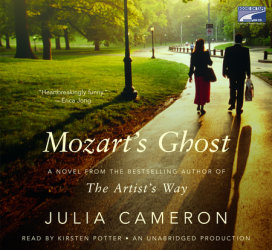 BOT Exclusive
Mozart's Ghost
Imprint: Books on Tape
Genre: Fiction - Literary

Release Date: February 19, 2008
10 Hours and 8 Minutes
List Price: $85.50
ISBN: 9781415948071
Meet Anna, a thirtysomething Mid-westerner living alone in New York City. A schoolteacher by day, she is a medium by night, covertly helping people reunite with their lost loved ones. Anna leads a double life, guarding her secret as much as she guards her heart—until Edward, a gangly yet quietly handsome concert pianist, moves into her building.

Edward's music fills Anna's apartment with beautiful sounds that disturb her concentration and her lines of communication with ghosts. She and Edward fall for each other fast, but Anna is conflicted: By exposing her true identity, does she risk losing what may be her true love? And is music really his true love?

Then a ghost begins to interfere—Mozart's ghost—and while making a pest of himself to Anna, he begins to play matchmaker, with unpredictable results....