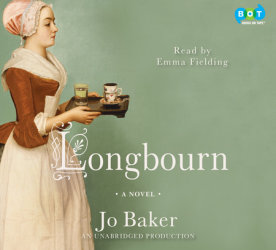 Longbourn
Imprint: Books on Tape
Genre: Fiction - Literary

Release Date: October 08, 2013
13 Hours and 32 Minutes
List Price: $95
ISBN: 9780804149433
Categories:
Fiction - Literary, Fiction - Romance - Historical - Regency, Fiction - Classics
Tags:
historical fiction, england, jane austen, servants, historical, romance, 19th century, austen, retelling, regency, british, love, napoleonic wars, war, history, austen inspired, english, 21st century, british fiction, great britain, uk, family, adult, soldiers, literature, secrets, historical novel, social commentary, domestic service, british literature
• Pride and Prejudice was only half the story •
 
If Elizabeth Bennet had the washing of her own petticoats, Sarah often thought, she'd most likely be a sight more careful with them.
 
In this irresistibly imagined belowstairs answer to Pride and Prejudice, the servants take center stage. Sarah, the orphaned housemaid, spends her days scrubbing the laundry, polishing the floors, and emptying the chamber pots for the Bennet household. But there is just as much romance, heartbreak, and intrigue downstairs at Longbourn as there is upstairs. When a mysterious new footman arrives, the orderly realm of the servants' hall threatens to be completely, perhaps irrevocably, upended.

Jo Baker dares to take us beyond the drawing rooms of Jane Austen's classic—into the often overlooked domain of the stern housekeeper and the starry-eyed kitchen maid, into the gritty daily particulars faced by the lower classes in Regency England during the Napoleonic Wars—and, in doing so, creates a vivid, fascinating, fully realized world that is wholly her own.