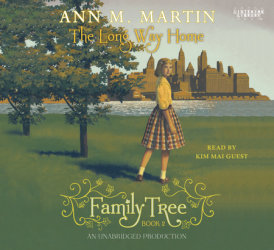 Family Tree #2
The Long Way Home
Imprint: Listening Library
Grades: Grades 4-7
Ages: 9-12 years
Release Date: October 29, 2013
4 Hours and 38 Minutes
List Price: $38
ISBN: 9780804122375
Four girls. Four generations. One family.
The second entry in the beautiful new series from Ann M. Martin.

Dana is Abby's daughter -- but she's always been much closer to her father, Zander. He's a celebrated New York author who encourages Dana's artistic talents . . . even if he sometimes drinks too much. Dana is on his side in any argument, regardless of whether he's wrong. And then her father dies.

After years of moving, often with her mother and three siblings, Dana is angry at Abby, and wants nothing more than to leave her family and get back to New York City. She moves in with her young, bohemian aunt Adele, determined to study art, attend school, achieve independence, and avoid all the mistakes her mother made. But can she leave her family and Maine behind?