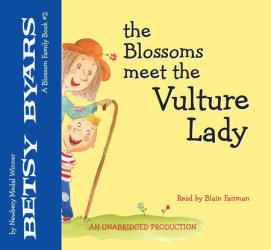 A Blossom Promise
Imprint: Listening Library
Grades: Grades 3-7
Ages: 8-12 years
Release Date: October 14, 2008
3 Hours and 27 Minutes
List Price: $25.50
ISBN: 9780739373989
For the Blossom family it's the best day of their lives -- and the worst. Maggie, out west with her mother, is about to become the newest Blossom on the rodeo circuit. And now that the rain has finally stopped,   Junior can at last visit his friend Mad Mary in her cave in the woods.



These two weeks of rain have been like an answer to a prayer for Vern and his friend Michael. Together they planned and built a perfect raft, and now, with everyone out watching the waters rise over the banks of the Snake River, they're sure their great voyage downstream will be witnessed with cheers.



Vern's grandfather, Pap, is watching the river and dreaming about his old days as a rodeo star. Suddenly he hears screams from the river and runs to the rescue. What will Pap find? How will the Blossom family pull together?