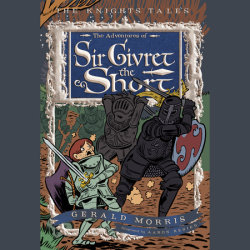 The Adventures of Sir Givret the Short
The Knights' Tales Book 2
Imprint: Listening Library
Grades: Grades 3-7
Ages: 8-12 years
Release Date: October 25, 2022
1 Hours and 32 Minutes
List Price: $28
ISBN: 9780593678329
Many years ago, the storytellers say, the great King Arthur brought justice to England with the help of his gallant Knights of the Round Table.

There was Sir Lancelot the Great, Sir Kay the Loyal, Sir Bedivere the Just, and others, including young Givret, who was known for being . . . well, short. Poor Givret: his size makes him so easy to overlook. But there's more to knighthood than height, and before long, Givret's quick thinking lands him a place at the famous Round Table!

As everyone knows, a new knight of any size must prove himself with a quest—even if he privately thinks his quest is silly. And so beginneth the exciting and comical adventures of Sir Givret the Short, the Brilliant, and the Marvelous, as only the acclaimed Arthurian author Gerald Morris can tell them.