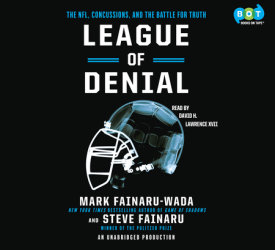 League of Denial
The NFL, Concussions and the Battle for Truth
Imprint: Books on Tape
Genre: Sports & Recreation - Football

Release Date: October 08, 2013
14 Hours and 42 Minutes
List Price: $95
ISBN: 9780804128209
NEW YORK TIMES BESTSELLER • The story of how the NFL, over a period of nearly two decades, denied and sought to cover up mounting evidence of the connection between football and brain damage
 
"League of Denial may turn out to be the most influential sports-related book of our time."—The Boston Globe
 
"Professional football players do not sustain frequent repetitive blows to the brain on a regular basis." So concluded the National Football League in a December 2005 scientific paper on concussions in America's most popular sport. That judgment, implausible even to a casual fan, also contradicted the opinion of a growing cadre of neuroscientists who worked in vain to convince the NFL that it was facing a deadly new scourge: a chronic brain disease that was driving an alarming number of players—including some of the all-time greats—to madness.
 
In League of Denial, award-winning ESPN investigative reporters Mark Fainaru-Wada and Steve Fainaru tell the story of a public health crisis that emerged from the playing fields of our twenty-first-century pastime. Everyone knows that football is violent and dangerous. But what the players who built the NFL into a $10 billion industry didn't know—and what the league sought to shield from them—is that no amount of padding could protect the human brain from the force generated by modern football, that the very essence of the game could be exposing these players to brain damage.
 
In a fast-paced narrative that moves between the NFL trenches, America's research labs, and the boardrooms where the NFL went to war against science, League of Denial examines how the league used its power and resources to attack independent scientists and elevate its own flawed research—a campaign with echoes of Big Tobacco's fight to deny the connection between smoking and lung cancer. It chronicles the tragic fates of players like Hall of Fame Pittsburgh Steelers center Mike Webster, who was so disturbed at the time of his death he fantasized about shooting NFL executives, and former San Diego Chargers great Junior Seau, whose diseased brain became the target of an unseemly scientific battle between researchers and the NFL. Based on exclusive interviews, previously undisclosed documents, and private emails, this is the story of what the NFL knew and when it knew it—questions at the heart of a crisis that threatens football, from the highest levels all the way down to Pop Warner.