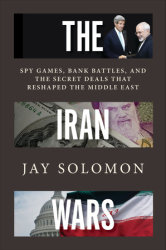 The Iran Wars
Spy Games, Bank Battles, and the Secret Deals That Reshaped the Middle East
Imprint: Books on Tape
Genre: Political Science - International Relations - Diplomacy

Release Date: August 30, 2016
11 Hours and 39 Minutes
List Price: $95
ISBN: 9780735210301
From Qasem Soleimani to the nuclear deal, a deeply reported exploration of Iran's decades-long power struggle with the United States—in the tradition of Steve Coll's Ghost Wars and Lawrence Wright's The Looming Tower
 
"A front-row view of the spy games, assassinations, political intrigue and high-stakes diplomacy that have defined relations with one of America's most cunning and dangerous foes."—Joby Warrick, Pulitzer Prize–winning author of Black Flags: The Rise of ISIS

For more than a decade, the United States has been engaged in a war with Iran as momentous as any other in the Middle East—a war all the more significant as it has largely been hidden from public view. Through a combination of economic sanctions, global diplomacy, and intelligence work, successive U.S. administrations have struggled to contain Iran's aspirations to become a nuclear power and dominate the region—what many view as the most serious threat to peace in the Middle East. Meanwhile, Iran has used regional instability to its advantage to undermine America's interests. The Iran Wars is an absorbing account of a battle waged on many levels—military, financial, and covert.

Jay Solomon's book is the product of extensive in-depth reporting and interviews with all the key players in the conflict—from high-ranking Iranian officials to Secretary of State John Kerry and his negotiating team. With a reporter's masterly investigative eye and the narrative dexterity of a great historian, Solomon shows how Iran's nuclear development went unnoticed for years by the international community only to become its top security concern. He catalogs the blunders of both the Bush and Obama administrations as they grappled with how to engage Iran, producing a series of both carrots and sticks. And he takes us inside the hotel suites where the 2015 nuclear agreement was negotiated, offering a frank assessment of the uncertain future of the U.S.-Iran relationship.

This is a book rife with revelations, from the secret communications between the Obama administration and the Iranian government to dispatches from the front lines of the new field of financial warfare. For readers of Steve Coll's Ghost Wars and Lawrence Wright's The Looming Tower, The Iran Wars exposes the hidden history of a conflict whose outcome could have far-reaching geopolitical implications.