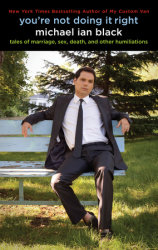 You're Not Doing It Right
Tales of Marriage, Sex, Death, and Other Humiliations
Imprint: Books on Tape
Genre: Humor - Form - Essays

Release Date: February 28, 2012
6 Hours and 30 Minutes
List Price: $66.50
ISBN: 9780449015414
Categories:
Humor - Form - Essays, Humor - Topic - Marriage & Family, Humor - Topic - Men, Women & Relationships
Tags:
science fiction, asimov, galactic empire, isaac asimov, sff, space, empire, robots, galactic empire series, science fiction/fantasy, space opera, 20th century, amnesia, 1950s, foundation
In the tradition of Christian Lander's hipster/yuppie-friendly bestselling Stuff White People Like, Michael Ian Black delivers his unique brand of quirky, deadpan humor in this new collection of comedic essays. Now that Black has become the guy he swore he'd never be—a Yuppie A-Hole—he has a lot to say about his family life in suburbia, and he shares his incisive yet absurd observations with readers in You're Not Doing It Right.  Chronicling his adventures cruising the neighborhood for his inevitable future "divorce house" (despite being happily married) or discussing Our Second Shitty Baby, Black delivers his straightfaced musings with the same sardonic humor that has earned him a rabid cult following. Want to know the pros and cons of hamster ownership or why kindergarten recitals are so boring? Looking for tips for lying to your kids about Santa? Clever, dry, and laugh-out-loud funny, You're Not Doing It Right will "blow your mind all over your face" just like My Custom Van.