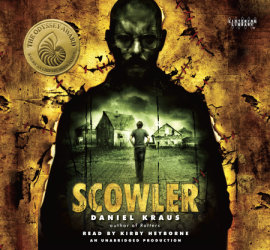 Scowler
Imprint: Listening Library
Grades: Grade 9 & Up
Ages: 14 and up
Release Date: March 12, 2013
11 Hours and 12 Minutes
List Price: $69
ISBN: 9780385368384
Equal parts haunting and horrifying, this literary horror novel gives readers insight into the mind of a controlling homicidal man and the son who must stop him. 

"Marvin Burke is one of the great monsters of literature, a figure of immense, credible terror and savagery."--Cory Doctorow, author of Little Children and coeditor of Boing Boing

Imagine your father is a monster. Would that mean there are monsters inside you, too?
Nineteen-year-old Ry Burke, his mother, and little sister eke out a living on their dying family farm. Ry wishes for anything to distract him from the grim memories of his father's physical and emotional abuse. Then a meteorite falls from the sky, bringing with it not only a fragment from another world but also the arrival of a ruthless man intent on destroying the entire family. Soon Ry is forced to defend himself by resurrecting a trio of imaginary childhood protectors: kindly Mr. Furrington, wise Jesus, and the bloodthirsty Scowler.