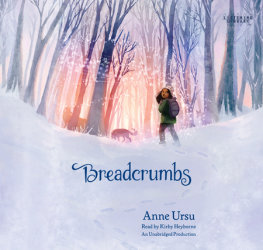 Breadcrumbs
Imprint: Listening Library
Grades: Grades 3-7
Ages: 8-12 years
Release Date: July 10, 2012
7 Hours and 47 Minutes
List Price: $47
ISBN: 9780449014011
Categories:
Juvenile Fiction - Social Themes - Friendship
Tags:
science fiction, short stories, anthology, isaac asimov, asimov, sff, robots, stories, fantasy, short story, american, non-classifiable
Once upon a time, Hazel and Jack were best friends. They had been best friends since they were six, spending hot Minneapolis summers and cold Minneapolis winters together, dreaming of Hogwarts and Oz, superheroes and baseball. Now that they were eleven, it was weird for a boy and a girl to be best friends. But they couldn't help it—Hazel and Jack fit, in that way you only read about in books. And they didn't fit anywhere else.

And then, one day, Jack just stopped talking to Hazel. And while her mom tried to tell her that this sometimes happens to friends at this age, Hazel had read enough stories to know that it's never that simple. And it turns out she was right. Jack's heart had been frozen, and he was taken into the woods by a woman dressed in white to live in a palace made of ice. Now it's up to Hazel to venture into the woods after him.