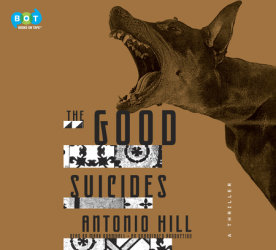 The Good Suicides
A Thriller
Imprint: Books on Tape
Genre: Fiction - Mystery & Detective - General

Release Date: June 17, 2014
11 Hours and 23 Minutes
List Price: $95
ISBN: 9780804166119
Unrelenting hero of The Summer of Dead Toys, Inspector Hector Salgado returns in another riveting crime thriller
 
After a company retreat in a remote country house, senior employees of Alemany Cosmetics return with a dark secret. They've each received an anonymous, menacing email of only two words: "Never forget". What's worse, the message is accompanied by a nightmarish photo attachment showing the bodies of dogs—hung to death from a tree—near the very same farm estate they just visited. When they begin killing themselves, one by one, the connection between the shocking photos and the suicides baffles Barcelona law enforcement and corporate think tanks alike, threatening a terrifying end for everyone involved.
 
Breaking through the insular power structures of these enigmatic executives isn't easy, but Inspector Salgado has his own ways of making those still alive speak up.  As the clock is ticking before another suicide, Salgado is doing all he can to bring the terror to an end.  Meanwhile, his partner Leire, bored on her maternity leave, remains fixated on Salgado's missing wife, Ruth.  She refuses to give up on a case many—including Salgado—fear is hopeless.
 
Antonio Hill deftly braids these two stories together for a richly layered and darkly chilling thriller about secrets, cover-ups, and devastating lies.