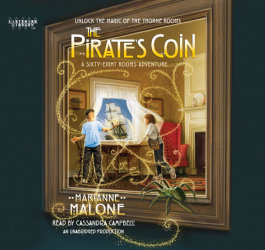 The Pirate's Coin: A Sixty-Eight Rooms Adventure
Imprint: Listening Library
Grades: Grades 3-7
Ages: 8-12 years
Release Date: May 28, 2013
5 Hours and 12 Minutes
List Price: $44
ISBN: 9780804121637
Fans of magic, mystery, and adventure will love the third The Sixty-Eight Rooms Adventure—a perfect next step for kids who love the Magic Tree House series, and just right for readers who love Chasing Vermeer, The Mixed-Up Files of Mrs. Basil E. Frankweiler, and Wonderstruck. Sixth Graders Ruthie and Jack return to the Art Institute of Chicago's magical Thorne Rooms. During a school presentation, Ruthie and Jack discover that their classmate Kendra is descended from Phoebe Monroe, the young slave they befriended when they traveled to 19th-century South Carolina. Kendra tells them that long ago her family lost their good name and their business selling herbal remedies when mobsters accused them of stealing the recipes! Only Ruthie and Jack know the truth--because only they know about the secret ledger that Phoebe wrote the recipes in long ago! Ruthie and Jack's mission to clear Kendra's name takes them back to the Thorne Rooms, where a mysterious old coin leads them to 1753 Cape Cod and to Jack's own ancestor . . . the pirate Jack Norfleet! But playing with history can be dangerous! Suddenly, Jack's very existence is in jeopardy! Can Ruthie and Jack find the proof they need to help Kendra? And can they fix the past and save Jack's future . . . before it's too late?

Here's What People Are Saying about The Sixty-Eight Rooms Adventures!
The New York Times:
"Irresistible."

Chicago Sun-Times:
"Exhilarating."

Chicago Tribune:
"Marianne Malone has tapped into a fantasy that is . . . completely universal."