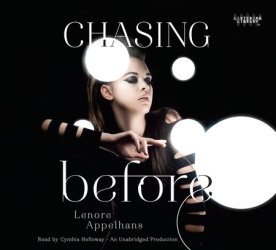 Chasing Before
Imprint: Listening Library
Grades: Grade 7 & Up
Ages: 12 and up
Release Date: August 26, 2014
10 Hours and 22 Minutes
List Price: $75
ISBN: 9780307942746
Perfect for fans of The Matrix and Inception, Chasing Before follows Felicia as she grapples with a futuristic afterlife in this riveting sequel to The Memory of After.

It's been four months since Felicia saved Level 2 from the Morati, the corrupted angels who trapped her and her boyfriend, Neil, in the afterlife. Now, she and Neil are finally ready to move on to the mysterious Level 3, an afterlife training facility where humans pick a career to pursue until they supposedly retire to the next level.

Shortly after arriving, Felicia learns some shocking truths about her life that make her question everything. Neil wants to focus on the future, but Felicia insists on looking for answers about her past. Just when Felicia thinks things can't get any more complicated, deadly explosions begin to rock Level 3, and Julian—her charming former love who might still be aligned with the Morati—reappears.

Felicia has a choice: Will she do everything in her power to expose the Morati and end the destruction of Level 3, even if it means never knowing who she really is? Or will she chase after the desires of her heart and risk losing her past humanity, her present afterlife, and a future with Neil?