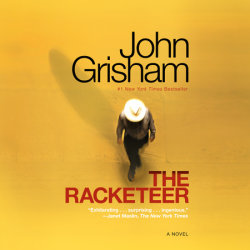 The Racketeer
Imprint: Random House Audio
Genre: Fiction - Thrillers - Suspense

Release Date: October 23, 2012
6 Hours and 30 Minutes
List Price: $95
ISBN: 9780307943286
Categories:
Fiction - Thrillers - Suspense, Fiction - Legal, Fiction - Thrillers - Legal
Tags:
thriller, mystery, legal thriller, crime, prison, fbi, john grisham, legal, lawyers, virginia, murder, suspense, witness protection, legal fiction, crime fiction, grisham, usa, florida, gold, law, corruption, scam, maryland
#1 NEW YORK TIMES BEST SELLER • "The Racketeer is guilty of only one thing: keeping us engaged until the very last page."—USA Today • In the history of the United States, only four active federal judges have been murdered. Judge Raymond Fawcett has just become number five.

His body is found in his remote lakeside cabin. There is no sign of forced entry or struggle. Just two dead bodies: Judge Fawcett and his young secretary. And one large, state-of-the-art, extremely secure safe, opened and emptied.

Who is the Racketeer? And what does he have to do with the judge's untimely demise? His name, for the moment, is Malcolm Bannister. Job status? Former attorney. Current residence? The Federal Prison Camp near Frostburg, Maryland.

On paper, Malcolm's situation isn't looking too good these days, but he's got an ace up his sleeve. He knows who killed Judge Fawcett, and he knows why. The FBI would love to know. And Malcolm Bannister would love to tell them. But everything has a price—especially information as explosive as the sequence of events that led to Judge Fawcett's death. And the Racketeer wasn't born yesterday.

Nothing is as it seems and everything's fair game in this wickedly clever novel from John Grisham, the undisputed master of the legal thriller.

Don't miss John Grisham's new book, THE EXCHANGE: AFTER THE FIRM, coming soon!