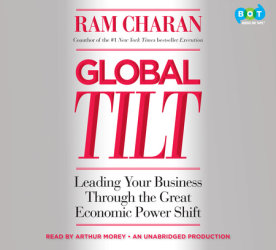 Global Tilt
Leading Your Business Through the Great Economic Power Shift
Imprint: Books on Tape
Genre: Business & Economics - Economic Conditions

Release Date: February 26, 2013
7 Hours and 12 Minutes
List Price: $66.50
ISBN: 9780449012581
New York Times bestselling author Ram Charan gives business leaders the guidance they need to succeed in a world in which economic power has shifted.
 
The global tilt is nothing less than an irreversible shift of economic power—jobs, wealth, and market opportunities—from a small part of the world to its entirety. It is improving the lives of millions of people around the world, and while it is creating immense opportunities, it is disrupting the world as you know it with dizzying speed. 

If you're an American or European, any assumptions you may have about national and managerial superiority are obsolete. Businesses in China, Singapore, India, Brazil, Malaysia, and other countries on the move have ready access to the capital and expertise they need to grow. Their leaders have just as much knowledge, talent, and drive as you do. And they are unleashing their entrepreneurial verve to scale up fast and grab once-in-a-lifetime opportunities. 

These businesses will soon be competing with yours, even if you're not aware of them yet. Finding opportunities of your own requires you to consider vastly different perspectives and to see the new global landscape in its entirety and then change the content of your work to pursue them. 

In Global Tilt, Ram Charan will show you how to: 
- Gain an edge by cutting through the complexity of demographics, different forms of government, and even the global financial system, to identify "unstoppable trends" better and sooner than others
- Challenge your reliance on core competence and the incremental improvement that results. Instead, look "outside-in" and "future-back," determine the capabilities you need to build, and muster the psychological fortitude to make occasional strategic bets that can potentially alter the competitive landscape 
- Develop the soft skills crucial to leading a global organization, including mastering local contexts
- Equip the organization to win by facing up to painful but necessary shifts in people assignments, decision-making authority, and resource allocation—even before making structural changes 

Those who can pursue the opportunities in a tilted world have a remarkably bright future. Ram Charan's unparalleled experience with global leaders and companies and the unique and powerful insights he brings to this book will light the way for you and your exciting journey.