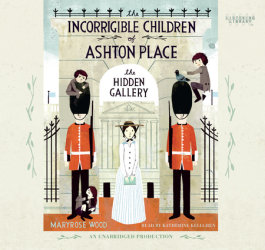 The Incorrigible Children of Ashton Place: Book II
The Hidden Gallery
Imprint: Listening Library
Grades: Grades 3-7
Ages: 8-12 years
Release Date: July 12, 2011
5 Hours and 57 Minutes
List Price: $43
ISBN: 9780307917010
Of especially naughty children it is sometimes said, "They must have been raised by wolves." 
The Incorrigible children actually were. Thanks to the efforts of Miss Penelope Lumley, their plucky governess, Alexander, Beowulf, and Cassiopeia are much more like children than wolf pups now.
Despite Penelope's civilizing influence, the Incorrigibles still managed to ruin Lady Constance's Christmas ball, nearly destroying the grand house. So while Ashton Place is being restored, Penelope, the Ashtons, and the children take up residence in London. Penelope is thrilled, as London offers so many opportunities to further the education of her unique students. But the city presents challenges, too, in the form of the palace guards' bearskin hats, which drive the children wild—not to mention the abundance of pigeons the Incorrigibles love to hunt. As they explore London, however, they discover more about themselves as clues about the children's—and Penelope's—mysterious past crop up in the most unexpected ways. . . .