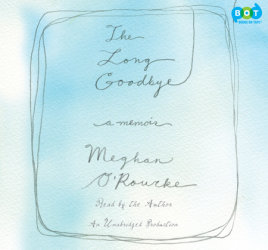 The Long Goodbye
A Memoir
Imprint: Books on Tape
Genre: Biography & Autobiography - Personal Memoirs

Release Date: April 19, 2011
6 Hours and 54 Minutes
List Price: $76
ISBN: 9780307933928
From one of America's foremost young literary voices, a transcendent portrait of the anguish of grief and the enduring power of familial love.

What does it mean to mourn today, in a culture that has largely set aside rituals that acknowledge grief? After her mother died of cancer at the age of fifty-five, Meghan O'Rourke found that nothing had prepared her for the intensity of her sorrow. In the first anguished days, she began to create a record of her interior life as a mourner, trying to capture the paradox of grief—its monumental agony and microscopic intimacies—an endeavor that ultimately bloomed into a profound look at how caring for her mother during her illness changed and strengthened their bond.

O'Rourke's story is one of a life gone off the rails, of how watching her mother's illness—and separating from her husband—left her fundamentally altered. But it's also one of resilience, as she observes her family persevere in the face of immeasurable loss.