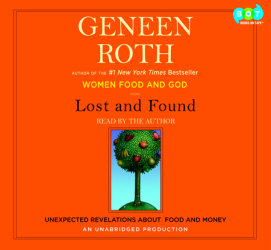 Lost and Found
Unexpected Revelations About Food and Money
Imprint: Books on Tape
Genre: Biography & Autobiography - Personal Memoirs

Release Date: March 22, 2011
5 Hours and 33 Minutes
List Price: $47.50
ISBN: 9780307933638
Geneen Roth galvanized millions with Women Food and God, a book that drew upon her years of teaching about the charged connection between food and our inner lives. Now she turns her attention to the other great secret in American culture: our conflicted relationship with money.

Precipitated by the loss of her entire life savings in the Bernard Madoff scandal, Roth took a hard look at her own habits—and found direct parallels between her relationship with food and money: binge shopping followed by periods of budgetary self-deprivation, "treating" herself in ways that ultimately failed to sustain, and using money as a substitute for love. As Roth used the tools she developed to unlock unconscious patterns around food and dieting, what she learned was a revelation. In Lost and Found, she examines the crisis of suffering around money that pervades our culture, dominates the media, and causes us sleepless nights.
 
Americans need a wake-up call about how we use and abuse money. Lost and Found is a radical template for liberating ourselves from old patterns and transforming how we feel and behave about the precious resources that should, and ultimately can, sustain and support our lives.