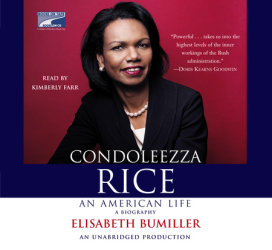 BOT Exclusive
Condoleezza Rice: An American Life
A Biography
Imprint: Books on Tape
Genre: Biography & Autobiography - Political

Release Date: December 26, 2007
14 Hours and 13 Minutes
List Price: $76
ISBN: 9781415948569
Condoleezza Rice has until now remained a mystery behind an elegant, cool veneer. In this stunning new biography, New York Times reporter Elisabeth Bumiller peels back the layers and presents a revelatory portrait of the first black female secretary of state and President George W. Bush's national security adviser on September 11, 2001. The audiobook relates the personal voyage of a young black woman out of the segregated American South and also tells the sweeping story of a tumultuous half-century in the nation's history.

In CONDOLEEZZA RICE: AN AMERICAN LIFE, we see Rice's Alabama childhood in Birmingham when it was the central battleground of the civil rights movement; her education in foreign policy; and her confrontations with minorities and women while she was provost at Stanford University in the 1990s. Examining the current administration, Bumiller explores in depth Rice's extraordinarily close relationship with George W. Bush, her battles with Vice President Dick Cheney, and her indirect but crucial role in the ousting of Defense Secretary Donald Rumsfeld. Bumiller shows us Rice missing clues to the September 11 attacks and waging war against Saddam Hussein. In addition, we watch Rice's recent attempts to salvage the ruins of the Iraq policy she helped create and to avoid war with Iran.

Drawing on extensive interviews with Rice and more than 150 others, Bumiller explores Rice's effectiveness as national security adviser and secretary of state, her longtime political ambitions, and her future on the world stage.