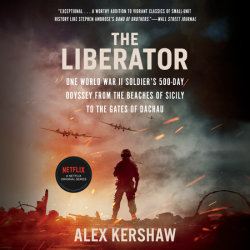 The Liberator
One World War II Soldier's 500-Day Odyssey from the Beaches of Sicily to the Gates of Dachau
Imprint: Books on Tape
Genre: History - Wars & Conflicts - World War II - General

Release Date: October 30, 2012
11 Hours and 3 Minutes
List Price: $95
ISBN: 9780449012666
The true story of the bloodiest and most dramatic march to victory of the Second World War: the battlefield odyssey of a maverick U.S. Army officer and his infantry unit as they fought for over five hundred days to liberate Europe - from the invasion of Italy to the gates of Dachau.

   From July 10, 1943, the date of the Allied landing in Sicily, to May 8, 1945, when victory in Europe was declared – the entire time it took to liberate Europe – no regiment saw more action, and no single platoon, company, or battalion endured worse, than the ones commanded by Felix Sparks, who had entered the war as a greenhorn second lieutenant of the 157th "Eager for Duty" Infantry Regiment of the 45th "Thunderbird" Division.  Sparks and his fellow Thunderbirds fought longest and hardest to defeat Hitler, often against his most fanatical troops, when the odds on the battlefield were even and the fortunes of the Allies hung in the balance – and when the difference between defeat and victory was a matter of character, not tactics or armor.

   Drawing on extensive interviews with Sparks and dozens of his men, as well as over five years of research in Europe and in archives across the US, historian Alex Kershaw masterfully recounts one of the most inspiring and heroic journeys in military history.  Over the course of four amphibious invasions, Sparks rose from captain to colonel as he battled from the beaches of Sicily through the mountains of Italy and France, ultimately enduring bitter and desperate winter combat against the diehard SS on the Fatherland's borders.  Though he lost all of his company to save the Allied beach-head at Anzio and an entire battalion in the dark forests of the Vosges, Sparks miraculously survived the long bloody march across Europe and was selected to lead a final charge to Bavaria to hunt down Adolf Hitler.

   In the dying days of the Third Reich, Sparks and his men crossed the last great barrier in the West, the Rhine, only to experience some of the most intense street fighting and close combat suffered by Americans in WWII.  When they finally arrived at the gates of Dachau, Hitler's first and most notorious concentration camp, the Thunderbirds confronted scenes that robbed the mind of reason.  With victory within grasp, Sparks confronted the ultimate test of his humanity: after all he had faced, could he resist the urge to wreak vengeance on the men who had caused untold suffering and misery?

   Written with the narrative drive and vivid immediacy of Kershaw's previous bestselling books about American infantrymen in WWII, The Liberator is a story for the ages, an intensely human and dramatic account of one of history's greatest warriors and his unheralded role in America's finest achievement – the defeat of Nazi Germany.