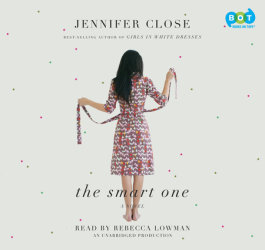 The Smart One
Imprint: Books on Tape
Genre: Fiction - Literary

Release Date: April 02, 2013
12 Hours and 33 Minutes
List Price: $95
ISBN: 9780385362740
With her best-selling debut, Girls in White Dresses (An "irresistible, pitch-perfect first novel" —Marie Claire), Jennifer Close captured friendship in those what-on-earth-am-I-going-to-do-with-my-life years of early adulthood. Now, with her sparkling new novel of parenthood and sibling rivalry, Close turns her gimlet eye to the only thing messier than friendship: family.

Weezy Coffey's parents had always told her she was the smart one, while her sister was the pretty one. "Maureen will marry well," their mother said, but instead it was Weezy who married well, to a kind man and good father. Weezy often wonders if she did this on purpose—thwarting expectations just to prove her parents wrong.

But now that Weezy's own children are adults, they haven't exactly been meeting her expectations either. Her oldest child, Martha, is thirty and living in her childhood bedroom after a spectacular career flameout. Martha now works at J.Crew, folding pants with whales embroidered on them and complaining bitterly about it. Weezy's middle child, Claire, has broken up with her fiancé, canceled her wedding, and locked herself in her New York apartment—leaving Weezy to deal with the caterer and florist. And her youngest, Max, is dating a college classmate named Cleo, a girl so beautiful and confident she wears her swimsuit to family dinner, leaving other members of the Coffey household blushing and stammering into their plates.

As the Coffey children's various missteps drive them back to their childhood home, Weezy suddenly finds her empty nest crowded and her children in full-scale regression. Martha is moping like a teenager, Claire is stumbling home drunk in the wee hours, and Max and Cleo are skulking around the basement, guarding a secret of their own. With radiant style and a generous spirit, The Smart One is a story about the ways in which we never really grow up, and the place where we return when things go drastically awry: home.